Last Updated on September 13, 2023
Cement board is known in construction as the Swiss Army knife of building materials, thanks to its versatility and toughness. This material is used most commonly in wet areas such as bathrooms and kitchens due to its ability to resist moisture, mold, and mildew.
Builders and homeowners often ask whether cement boards can get wet. In short, yes. While it may not be entirely waterproof, the cement board is specially designed to handle exposure to moisture without breaking down or deteriorating over time.
Discover the secrets of cement board waterproofing. Find out the must-know steps to make it impermeable to water damage.
Why Does the Cement Board Need to Be Waterproof?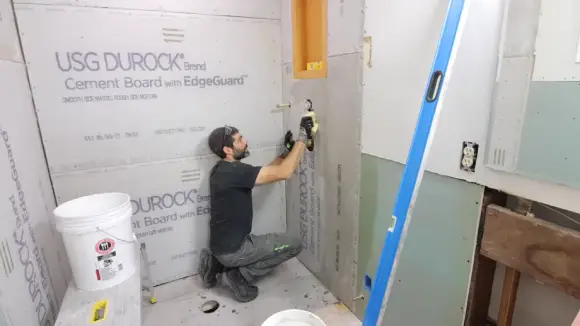 Cement board is a popular material used in construction for its durability and strength. Understanding the importance of waterproofing cement boards is crucial to ensuring the longevity and safety of a building.
1. Water Damage to the Structure
Water damage can occur to the structure if non-waterproof building materials like cement board are used without protective measures. The porous material allows water to seep through and cause several problems.
Those issues not only require costly repairs but can also pose health hazards to occupants. Therefore, it's vital to ensure proper waterproofing measures are taken to prevent water damage and maintain the building's integrity.
2. Mold and Mildew Growth
Mold and mildew can grow in non-waterproof building materials due to moisture accumulation, creating a hazardous environment and causing damage. Cement board is susceptible to this issue if not properly waterproofed, allowing fungi to thrive in the porous material.
The spread of mold and mildew can rapidly lead to health problems and costly repairs, particularly in high-moisture areas like bathrooms and kitchens. To prevent this, it's important to ensure proper cement board waterproofing.
3. Deterioration of Materials
If building materials are exposed to moisture for a long time, they can deteriorate and weaken, leading to expensive damage. Cement boards can deteriorate and develop cracks and holes, allowing water to seep.
This can compromise the structural integrity of the tiled surface, and repairing it will require the replacement of the board. To prevent this, a waterproofing cement board is crucial in ensuring its longevity and preventing deterioration.
4. Seams and Corners Vulnerability
To prevent water from seeping in and causing damage, seal and waterproof any seams and corners when installing cement board. Seams and corners are especially vulnerable to water penetration because they're where separate sheets of cement board meet.
If not adequately sealed, the water can cause damage to both the cement board and the structure underneath. To avoid potential water damage, correctly seal and waterproof these areas during installation.
5. Lack of Protection for the Frame
If the cement board is not waterproofed, water can seep through and damage the underlying frame, leading to the structure's deterioration. The protective layer of the cement board acts as a barrier to moisture, preventing rot and mold.
Without proper waterproofing, the cement board becomes vulnerable to water damage, potentially compromising the entire system and requiring costly repairs. So, it's essential to ensure adequate waterproofing to the cement board to prevent water intrusion and structural damage.
What Are The Steps to Waterproof Cement Boards?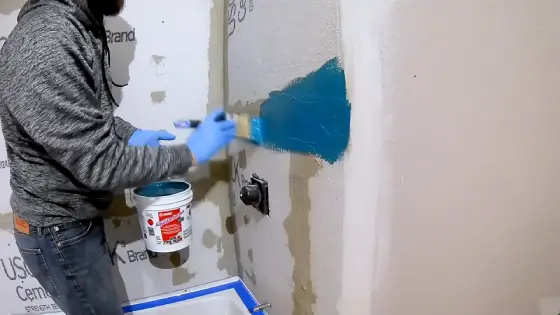 When waterproofing cement boards, following steps is important to ensure a successful outcome.
1. Prepare the Surface
Before waterproofing a surface, it's important to prepare it properly. Use Frog tape to tape off areas that shouldn't be waterproofed, like tubs or shower pans, to prevent bleeding.
Seal the areas where the cement board meets other surfaces that won't be waterproofed with silicone-based caulk for a seamless and leak-proof finish. Adequate surface preparation ensures the waterproofing material adheres properly and provides optimal protection against water damage.
2. Apply the First Coat of Waterproofing
Let's apply the first coat of waterproofing. Using a brush, roller, trowel, or sprayer, generously apply Redgard to corners, seams, and screw holes to prevent water damage.
Make sure to spread the material into every crack and corner and cover these areas completely. Doing so can create a strong and durable waterproof barrier that will prevent water from seeping into the cement board.
These vulnerable areas require extra attention since they are prone to water damage. Use a brush to reach every nook and cranny for complete coverage.
3. Add Fiberglass Mesh
To add extra protection to the cement board, apply fiberglass mesh over corners, seams, and screw holes after the first coat of waterproofing. Firmly press the mesh into the waterproofing layer to reinforce the board and prevent leaks and water damage.
Just like applying tape to spackle, this added step will ensure the cement board is fully protected from any moisture. Smooth out the mesh and apply another coat of waterproofing on top.
4. Allow Drying Time
Letting the waterproofing material dry properly is crucial to protect against moisture and water damage. Redgard changes from pink to red when dry, typically taking around 60-90 minutes.
Don't rush this process after waterproofing corners, seams, and screw holes because it could affect the effectiveness and cause later problems. Follow the manufacturer's instructions to allow sufficient drying time before installing cement board or other materials.
5. Apply the Second Coat
It's time to generously apply a second coat of waterproofing to ensure optimal protection against moisture and water damage. Cover all areas, including screw holes, corners, seams, and flat surfaces. Let it dry completely before moving on to tile installation or other construction.
Check the color to ensure it's turned from pinkish to red, indicating dryness. Taking the time to apply a second coat will greatly enhance the cement board's durability and longevity.
What is the life expectancy of cement board outside?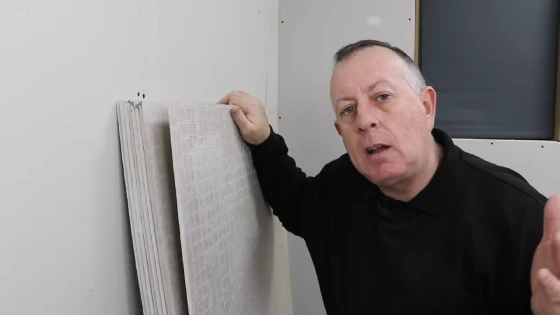 Fiber cement siding has a long lifespan of up to 50 years if installed and maintained correctly when used as an exterior building material. It can handle various weather conditions and is resistant to moisture, insects, and fire.
Its durability makes it a favored choice for homeowners who desire a low-maintenance option for their homes. Cleaning it occasionally is enough to maintain its appearance. So, investing in cement board outside yields excellent returns for many decades since it has a very long life expectancy.
Is cement board prone to swelling when wet?
Cement boards can indeed swell when exposed to moisture. This happens because moisture causes the cell walls of wood chips in the cement to absorb water and swell, leading to micro-cracks in the cement matrix.
The microcracks can weaken the structure, so it's important to install and seal the cement board correctly to prevent water damage. While water damage-resistant, cement board is not completely waterproof and should not be solely relied upon for water protection.
Note: It is highly recommended that prolonged exposure to moisture is avoided to prevent swelling and damage.
Cement Board: Durable and Water-resistant with Proper Sealing
A cement board is a reliable building material commonly used in wet areas. However, it is essential to note that it is not waterproof by nature and requires proper sealing to prevent damage and extend its lifespan.
Waterproofing can be achieved by applying a sealant or waterproofing agent onto the board's surface using various methods, such as spraying, brushing, or rolling. Ensure the entire surface is covered, including the joints or seams, and let it dry entirely before proceeding with any work.
Installation quality, climate, and moisture exposure all affect cement boards' durability and longevity. Therefore, proper sealing and maintenance are crucial to its longevity.