Last Updated on January 8, 2023
An air hammer bit is essential for drilling a hole in concrete, metal, or carving stone. In most cases, when you use this tool, its tip will break or chip because the force of the compressed air may be too much for it.
Since drifts are often not precisely machined, they can slip or chatter during use. This can cause scratches on the side surface. If you want to use conventional drilling, it can be slow and inefficient.
You may end up wasting a lot of time. Using the best air hammer bits will increase your productivity. They will provide clean and precise holes or cuts. Here we will discuss some of the top air chisel sets to achieve maximum performance.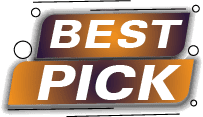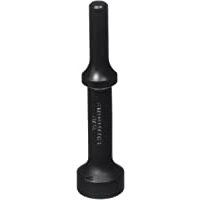 Grey Pneumatic CH117 Hammer Bit
Durable and universal fit type air hammer bit
● 1″ Diameter and 401 taper
● Universal fit type
● 0.12 kilograms item weight
● Suitable with impact driver
● Suitable on metal and wood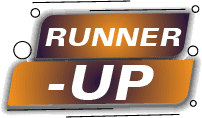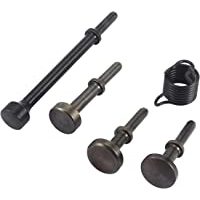 Anndason Smoothing Pneumatic Air Hammer Bits
Labour saving air hammer bits in various lengths
● Four different head types
● 2 Inches Maximum Chuck Size
● Alloy steel material
● Approximately 10mm handle
● Designed for IR air hammers
Top 5 Recommended Best Air Hammer Bits
Whether you're a professional contractor or a passionate DIYer, having the right air chisel set on hand is essential for any project.
The issue is that not all air drifts are created equal, so it can be challenging to figure out which ones are worth investing in. To ensure you get the right cut or drilling, here is a list of the highest quality air hammer bits.
01. Grey Pneumatic CH117 Hammer Bit
This hammer bit by Grey Pneumatic is a versatile tool that works great for a variety of applications. It features durable construction that can withstand heavy use. It is perfect for both small and large projects.
Key Features:
Universal fit type for use with an air chisel hammer
0.12 kilograms item weight for extended use
Suitable dimensions for maneuverability in tight spaces
Can be used with an impact driver or an
Suitable for old-fashioned air hammer with a 401 taper
A short shank makes it easy to maneuver
Minimizes damage to the surrounding area
Useful on both metal and wood
Since Grey Pneumatic CH117 Hammer Bit is made of high-quality materials, it is a very durable tool. Its short shank makes it easy to manipulate, and the sharp tip minimizes damage to the surrounding area. Their hardened edges also protect the work surface from harm.
You can use this tool with either an impact driver or a standard duty air hammer with a 401 taper. This punch set is highly intuitive to use. With the CH117, it is possible to remove rust and other buildups that can make traditional hammers slip. 
In heavy-duty applications, the bit can withstand the rigors. The air hammer kit allows it to readily remove nails, screws, and other fasteners.
Its greatest advantage is that it can be used on both metal and wood. You can readily straighten out metal items with this punch.
With it, you can easily remove stubborn fasteners. Simply insert the drift and then strike. The bit will do all the work for you. Furthermore, the CH117 helps to save time since it is capable of breaking very tough bolts in a fraction of the time.
You can use it to chisel away at the shaft of a ball joint without having to worry about damaging the surrounding material.
It fits between the studs and delivers a powerful blow that breaks the corrosion bond without damaging the studs. The head is designed to hit randomly between the holes, causing the rust to break off.
Among other uses, it is excellent for working on wheel bearings, drums, spindles, and other components. The drill bit can be applied directly to the bolt heads, and it will quickly remove corrosion from the threads.
It makes it a valuable power tool for those who work on automobiles or machinery. The air hammer kit is also compact and easy to store, making it a convenient addition to any toolkit.
Drawbacks
The CH117 Bit has some shortcomings that are worth mentioning. When using this tool, it is recommended that you wear ear protection since it generates moderate noise. Additionally, the hammer does not come with a collar to help you grip it while striking. This is a common issue with any bit. However, these drawbacks are relatively minor when compared to the CH117's many benefits.
Verdict
Whether you're working on a car engine or pounding nails into a piece of lumber, the hammer bit is suitable for any job. With its versatile design and sturdy materials, the CH117 is an essential tool for any tool box. It is also easy to handle and can be used by anyone, even if they have no experience using a hammer.
---
02. Anndason Smoothing Pneumatic Air Hammer Bits
The Anndason pneumatic chisel bits are a great choice for small projects. With a variety of lengths available, you can easily select the right tool for the job. They are also very easy to use and are a great value for the price.
Key Features:
The set comes with four different head types
Manual power source, 30 volts, and a 50 rps speed
Bits are made of alloy steel material for durability
Handle diameter is approximately 10mm
Designed specifically for use with IR air hammers
Work great with a cheap and good quality air chisel
Come with a spring to use on various projects
Have a good speed of delivery
These bits are designed specifically for use with IR air hammers, and they offer a great fit and superior performance. You can use them with a cheap and good air chisel. The bits have a good speed of delivery and work well with any pneumatic or electric drill.
With a spring attached, these bits are useful for a wide range of projects. On the 3/16″ rivets, the air punch works great. They also work great on 1/8" rivets as well. These tools work great on round head rivets, and they've held up good over time.
It appears to have no issues with slipping at all. With them, you'll be able to get the perfect finish on your projects every time. They are also perfect for use on wood, metal, plastics, and composites. 
The Anndason Smoothing Pneumatic Air Hammer Bits are perfect for fixing dings and small dents on aluminum surfaces.
These drifts work great with planishing hammers, and they can remove any blemishes quickly and easily. In addition, the bits are also great for removing paint from aluminum surfaces.
Using chisel bits will help prolong the life of your tools by removing bent and misshaped metal. The tools gently tap the metal back into place, returning it to its original form. This process also leaves the hull flat enough to lightly sand and paint, giving your tools a new lease on life.
Drawbacks
These are great for those looking for an entry-level set of air hammer bits. While they are not suitable for industrial use, they are perfect for light home projects. They are intended to be used with steel.
This means that if you are looking to use them for anything other than light work, you may want to consider another option. Nevertheless, if you only need them for occasional use, the chisel kits are a great choice.
Verdict
When repairing aluminum surfaces, Anndason hammer bits perform well. With these tools, you can remove blemishes rapidly while returning metal to its original state.
The chisel bits are designed to help extend the life of your workpiece by reshaping metal that has become bent or misshapen over time.
---
03. Hanperal Pneumatic Air Hammer Bit With Spring 
The Hanperal pneumatic chisel bit set is an innovative tool that can remove rust using no penetrating oil or additional tools. It can help those who deal with slag on a regular basis save time, as well as prevent backbreaking tasks.
Key Features:
Made of high quality alloy steel
Clear, consistent output of 380 volts
Includes three hammer bits and a spring
Commercial quality bits
Delivers a powerful crushing blow
Can stand up over and over without breaking
Suitable for smoothing out sheet metal
Useful for masonry and concrete demolition
Using this bit set, you can remove tarnish from metal with a pneumatic air hammer, so it is a useful tool for those who need quick results. With its three different sizes and shapes of chisels, it is ideal for use in tight places or on delicate surfaces. 
This tool has a spring-loaded design, allowing it to be easily handled. It is easy to replace existing springs in air hammers thanks to the retaining spring included with the tool. Its impact ensures that rust is removed without damaging the surrounding area.
Sturdy steel construction makes it durable. It should last a long time with proper maintenance. They are used with a professional air hammer, so you know they will do the job right. You can easily remove slag from metal surfaces with an air punch. 
In addition, the Hanperal Pneumatic Air Hammer Bit With Spring is also much quieter than other tools, making it ideal for use in areas that require minimal noise. With the hammer bit, you can quickly and easily break up tough materials.
The devastating, crushing blow will deliver an effective strike that will enable you to accomplish your goal faster. You can use it repeatedly without worrying about chipping or breaking it. They are also precision-engineered to deliver maximum power with minimal vibration.
By using the bits with an air impact driver, it is simple to loosen tie rods or disassemble other components. You can also use the chisels to smooth metal or other materials. Using the air hammer kit, you can remove dents.
With it, you are able to round off cold pressed rivets. They are specifically designed to remove a stuck disk from the hub and to separate rusted ball joints. Its unique design makes it ideal for hammering wooden pegs into the ground.
Drawbacks
You need to be more careful to remove slight surface rust with this bit set, even though you should not use other bits also. The shank can't fit some impact guns because all impact guns are not universal.
Verdict
Whether you're breaking up concrete or working on cars, working on cars, this bit set is up to the task. Its well-made construction and high level of accuracy make it a reliable tool that will serve you well for a long time.
The bit's unique design makes operation easier, and its universal compatibility means that it will work with most air hammers on the market. 
---
04. GreatBba Round Head Air Hammer Bit
Having these air hammer bits from GreatBba can make all the difference in getting the job done quickly and efficiently. With its high-quality construction and precision manufacturing, it is designed for heavy use.
Key Features:
Made from alloy steel for durability
Chisels are heat treated for hardness
Nine different shapes to choose from
Can be used for chiseling, masonry
Includes a plastic box for storage and transport
Can break through concrete and unwanted debris
Great for quickly breaking up concrete slabs
Works well for removing dents and scratches
Effective for scraping paint and rust
The GreatBba round head air hammer bit is made from alloy steel and has a round style shank that is easier to grip and use. It has a 0.39″ shank diameter. Similarly, the blade is also made of the same material and provides fast and easy metal cutting.
With nine different shapes available, this air hammer bit is sure to have the right one for any job. The chisels are heat treated for hardness. The punch chipping bits set is one of the most affordable tools. It comes with a plastic box for protection during storage and transport.
You can use it for masonry demolition, and chiseling hard surfaces with this air hammer bit. With its easy-to-use design, the air punch makes it a snap to break through concrete and chisel away unwanted debris.
It is also great for quickly breaking up slabs so that they can be removed and replaced with new ones. In addition, using it, you can create channels in concrete so that electrical wiring can be run through them.
It is a must-have for any do-it-yourselfer installing a fence. The bits attach to an air hammer, which makes quick work of chipping away at the concrete around the post.
This leaves a clean, flush surface for the fence post to be installed. In addition, the drift can be used to remove old fence posts that are set on hard surfaces. 
The design of the tool is user-friendly, and it works well for removing dents and scratches. The chipping bits are also effective at breaking up rust and paint, making it a versatile tool for anyone who needs to do bodywork on their truck.
Drawbacks
GreatBba branded air hammer punch chipping bits are designed for light use and are not suitable for heavy-duty projects.
Additionally, the quality of the plastic storage box is not up to par, but this shouldn't affect the performance of the bits. For larger jobs, you'll need to invest in a more durable set of bits.
Verdict
Whether you need a tool for general maintenance or for more specific tasks, the air hammer kit will prove to be a valuable addition to your toolbox. It is able to effortlessly cut through metal, fitting a number of applications. Overall, the tapered punch bits are a good choice for small tasks around the house.
---
05. ATD Extra Long Air Hammer Bits
The air hammer drift set from ATD is designed for tough applications. Even in the most challenging conditions, the bit's rugged design and thick black oxide coating extend its lifetime.
Key Features:
Different sizes for different needs
Made of tough steel for durability
Black oxide coating for extended life
Don't bend after several uses.
Extended length for reach
Ideal for use with air hammers
Molded case for organization and protection
ATD extra long air hammer bits come in various sizes to meet a variety of requirements. All the bits are straight and well finished, so they can be used with air tools. For the bits, heat-treated steel with high impact strength is used, which is able to withstand high impact.
Long bits enable easier access to bolts and screws that are recessed or difficult to reach. With these drifts, you can grind the 3/16″ bit down to 1/8″ without damaging the bit. When working on delicate projects, these punches provide greater control. These drifts are designed for use with medium barrel air hammers. 
From removing rust to crushing concrete, these tools perform many tasks. You can also use them for more delicate tasks, such as carving wood or shaping metal.
Using them to get rid of split pins is another useful application. In drivelines, they can also be used to remove broken CV joints. The drifts are strong, so they don't bend after repeated use.
Using these bits, you can remove stuck and broken studs, riveted b-joints, and drive-out roll pins from Polaris ranger drive shafts. Moreover, these drifts can be used for exhaust work as well. These bits come with a nice molded case for organizing them before and after handling.
Drawbacks
For removing frozen pins and bearings and general repair work, the ATD air hammer drift set is a useful tool. Despite its usefulness, there are some potential drawbacks. For example, you can only use the 3/16-inch bit in light applications due to its small diameter.
The bit set includes other tools you can use if you need heavy duty use. Using a larger bit is necessary when you have tight tolerances or if a pin or bearing is very stuck.
Verdict
In summary, ATD hammer bits are designed for delicate projects that require repeated use. You can use these bits to work on exhausts and break up concrete, as well as to shape wood or metal. Even the most demanding jobs are no problem for these bits, thanks to their durable construction and long length.
---
Factors to Consider When Buying Air Hammer Bits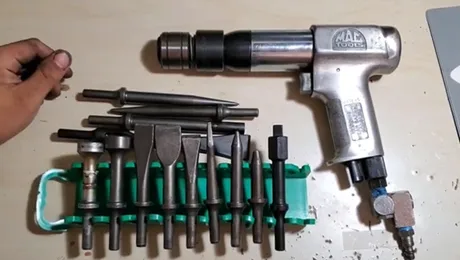 Air hammer bits are versatile tools for many uses, from destroying concrete to removing nails and bolts. The quality of drifts determines how effective they are. When purchasing pneumatic bits, there are a few things to keep in mind in order to ensure that you are getting a quality product.
Size:
The vast majority of air hammers will require bits that are between 0.401" and 0.498" in diameter. However, there are a few specialty air tools that can accommodate bits up to 1" in diameter.
If you are unsure about the size of the bit you need, consult your air drill's owner's manual or the manufacturer's website.
In general, it is better to err on the side of a larger bit, as this will give you more versatility and allow you to tackle a wider range of projects.
However, if you only plan on using your pneumatic hammer for light-duty tasks, then a smaller bit should suffice.
Weight:
The weight of the air hammer bit makes a big difference in terms of the overall performance of the tool. In general, heavier bits will be able to withstand more abuse and will last longer. The heavier the drift, the more force it can exert on the material being cut.
This results in a cleaner, smoother cut. In addition, heavier bits are less likely to become damaged or broken during use. However, they can be more difficult to control, particularly for smaller or lighter pneumatic tools.
If you are working on a light-duty project, then a lighter bit will be sufficient. It will be easier to control and will cause less wear and tear on your rotary hammer.
You can't get proper leverage with a lighter bit on a tough project. In this case, a heavier bit is necessary in order to get the job done right.
Material: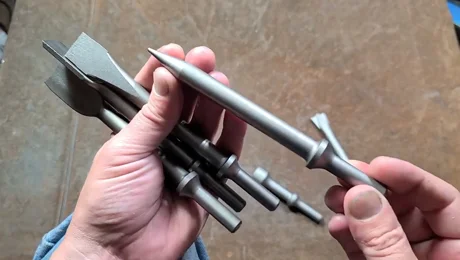 There are four main types of material to consider: alloy steel and carbon steel, carbide, and titanium. Alloy steel bits are known for their durability and resistance to breakage, making them a good choice for heavy-duty applications.
Additionally, they are usually more expensive than carbon steel bits and may require frequent sharpening. Carbon steel bits, in contrast, hardly ever break under heavy use but can dull more quickly. As a result, they may need to be replaced more often.
Carbide is one of the hardest known materials, proving useful for high-impact applications. This material is far more durable than steel, meaning that it will stay sharp for longer and won't require as much upkeep. In addition, it is less likely to chip or break, even when being used on tough materials.
Titanium is a strong, durable metal that is often used in the manufacture of air hammer bits. It is also resistant to corrosion and is not affected by chemicals or cleaners.
These chisel bits are designed to withstand repeated use and can withstand high temperatures. Because of these properties, these drifts are an excellent choice for use in applications where durability and strength are required.
Head Type:
The type of head is important for two main reasons: impact force and vibration. The head is the part of the air hammer that actually makes contact with the work surface, so it needs to be durable enough to withstand repetitive impacts.
At the same time, it should have a relatively low mass so that it doesn't transfer too much vibration to the user's hand.
Flat chisel bits are the best choice for general purposes. They are good for breaking up asphalt and concrete, chiseling out lower portions of door jambs, and other light work.
Spherical head pneumatic bits have a more focused impact, making them ideal for heavier jobs such as breaking through stubborn bricks or removing heavily rusted bolts.
Power Source For Use:
Pneumatic and electric are the main power sources that power Hammer bits. Each has its own advantages and disadvantages, so it's important to choose the right type for your needs.
Pneumatic hammers require an air compressor, while corded electric air hammers plug into an outlet. They are more powerful and capable of more demanding applications. However, they are also louder and require more maintenance than corded electric models.
Corded electric models, on the other hand, are quieter and require less maintenance. However, they may not have enough power for some applications. Moreover,  they can be difficult to use in tight spaces or in areas where there is no outlet available.
FAQs:
It is common that many people may have some questions related to air hammer drifts, especially if they are first-time users. To help you better understand pneumatic bits, we have answered some common questions below.
Q: Is an Air Hammer the Same as an Air Chisel?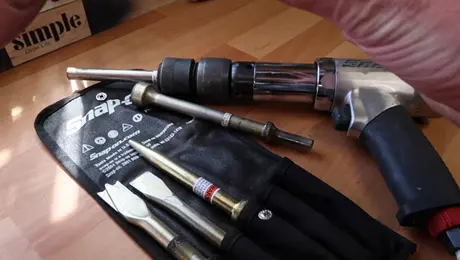 Yes, a pneumatic hammer and an air chisel are the same things. They are powered by compressed air. When you're looking to buy one, you search for both. This piston is connected to a hammer, which strikes a chisel-like tool. It may be used to break up concrete or shape metal, among other things.
Q: Will an Air Hammer Break Concrete?
An air hammer can break concrete. There are two types: electric and pneumatic. Electric models are less powerful than pneumatic ones, but they are still capable of breaking concrete. Pneumatic tools have a greater breaking power and can break concrete more easily than electric tools.
Q: How Powerful is an Air Hammer?
The power levels of this tool vary with its size and type. The most powerful and super duty air hammer can generate up to 3500 blows per minute, making them incredibly effective at completing even the most challenging tasks.
It uses compressed air to create a smashing or chiseling effect, making it ideal for tasks like crushing concrete, cutting through metal, or removing rust from welding seams.
Q: Do I Need a Compressor for an Air Hammer?
Many experts recommend using an air compressor along with this powerful machine. It helps to regulate the flow of air, preventing the hammer from overloading and breaking.
It also helps to keep the air pressure consistent, ensuring that the tool performs at its best. In short, a pump can be a valuable asset for anyone who plans on using a standard air hammer.
Q: How Much PSI Does an Air Hammer Need?
It is imperative to know how much PSI (pounds per square inch) your air hammer needs in order to function properly.
The amount of PSI needed varies depending on the model of the air machine, but most will require 90 PSI. If the air pressure is too low, this air tool will be unable to drive nails or break concrete. Too much pressure may cause the machine to stall or even break.
Conclusion:
The air hammer bits in our review are better than anything else available. You can use them in many ways, such as breaking concrete, chiseling metal, or removing rust. They are all made from high-quality materials and are designed to withstand heavy use.
When choosing the best air hammer bit for your needs, consider the size, power source, type of material you'll be working with, and frequency of use. Our buying guide on pneumatic bits can give you more insight into these factors.
Our FAQs section will also help you find out more about pneumatic drifts. We hope our review has helped you choose the right air punch to meet your requirements. If you have any questions or comments, please feel free to contact us.
Recommended Article To Read: