Last Updated on January 25, 2023
Are you a professional mechanic looking for the most reliable tools on the market? If so, Mac Tools and Snap On are two of the most respected brands in the industry. They both offer an impressive range of tools for automotive repair.
Comparing Mac tools vs. Snap On can be demanding due to the brand's reputation for quality and durability. One of the main differences between the two brands is their product selection.
Mac Tools has a wider range of tools and accessories, while Snap On focuses on delivering top-tier specialty tools. Due to its focus on craftsmanship and quality, Snap On is more expensive.
Each company offers a wide variety of power tools, hand tools, air tools, storage solutions, diagnostic equipment, and more so you can get the job done. This article compares them on numerous levels. Also, we'll look at some of the features that make each brand stand out.
What's the Difference Between Mac Tools Vs Snap-On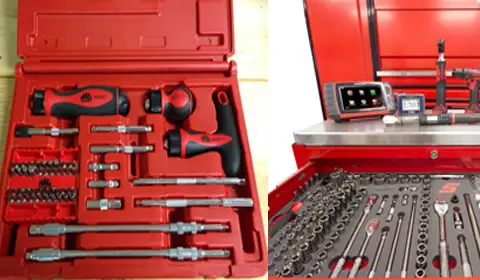 Mac Tools and Snap On are two leading manufacturers of industrial tools. While both share many similarities in terms of the products and services they offer, some key differences help set them apart from one another. Here are some of the distinguishing aspects you should consider when comparing them:
Product Design and Finishing
Mac Tools offers a large variety of products, from simple hand tools to highly specialized automotive equipment. Their products are known for their durability and strength, making them ideal for a wide range of professional applications.
Snap On is known for its quality craftsmanship in producing tools. The company uses a variety of finishing materials in the construction of its tools, with each tool being designed to meet the most rigorous industry standards. They provide reliable tools that stand up to repeated use while still delivering top performance.
Mac Tools also takes pride in its commitment to technological finishing innovation, as they often develop new products and processes that make its product line even better. Their commitment to quality and customer satisfaction has earned them accolades from many important industry reviews and awards.
On the other hand, Snap On values precision over quantity regarding tool production. Every one of their tools is rigorously tested before it makes its way into customers' hands, ensuring maximum quality assurance across the board. This attention to detail allows them to produce some of the most reliable and durable tools available on the market today.
Range of Tools and Accessories
Mac Tools has been used by both industrial and home mechanics, offering products that range from hand tools to air compressors. Recently, Mac Tools has launched several new products designed to make automotive repairs easier.
Snap On is also an established manufacturer of professional-grade tools and accessories. They also offer various tools for all jobs, ranging from basic hand tools to specialty tools for unique projects. Snap On also provides comprehensive product support, ensuring customers get the most out of their purchases.
Versatility
Mac Tools have adaptable usages over different material types, making them incredibly versatile and allowing them to be used in almost any situation. Furthermore, they offer extended warranties on selected products to ensure lasting quality performance over time.
Snap On also offers top-of-the-line tools designed for a variety of applications. What sets them apart is their ability to customize designs based on customer needs, allowing users to get exactly what they need without compromising on quality or performance.
They also have an easy adaptability feature that allows users to quickly switch between different applications without the need for extensive reworking or reconfiguring of their setup.
Customer Service
Both of them offer quality products with a strong customer service focus to ensure their customers have an excellent experience when working with either brand.
Mac Tools is committed to providing a dedicated team that is always available to answer questions or provide assistance whenever needed. The customer service team is highly responsive and understands the needs of their customers, which helps them provide timely and accurate responses that are tailored to each individual situation.
Snap On also prides itself on its quick response time whenever customers need help. The company also has a solid relationship with distributors and retailers, which allows them to provide reliable support to all types of customers.
This company's commitment to customer satisfaction has earned them a strong reputation within the tool industry, along with many loyal customers.
Pricing Structure
Mac Tools offers a wide range of high-quality tools at affordable prices, making them the go-to choice for mechanics who are looking for value without sacrificing quality.
Many of their products come with discounts available for technicians and bulk orders, making them even more cost-effective. This makes Mac Tools an ideal choice for anyone on a budget who needs reliable equipment they can depend on.
Snap On is known as one of the most reliable and highest-quality tool manufacturers in the industry. Their products come with a premium price tag to match their superior quality and craftsmanship, but customers can choose from a variety of financing options to help make their purchases more affordable.
This brand is the preferred choice for professionals who need top-of-the-line precision tools that will last them through years of demanding use.
Some Mac Tools and Snap On Tools Ideas for Your Workshop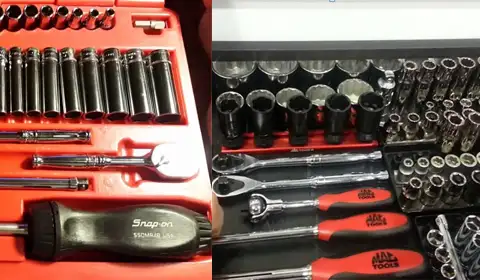 Both brands provide access to online resources such as detailed product information and how-to guides, which further help customers maximize their use of the toolset for specific projects. Here are some suggestions for Mac Tools and Snap On Tools to get your workshop up-to-date:
Pliers, Socket Wrenches, and Screwdrivers Set: Mac Tools and Snap On offer a wide range of socket wrenches, ratchets, pliers, screwdrivers, and other hand tools made with the highest quality materials that meet exacting standards.
Air-Powered Tools Kits: For air-powered tools, both Mac Tools and Snap On have comprehensive kits for all your needs. They provide all the necessary components, such as air compressors, drills, sanders, and grinders, so you can get the job done quickly and easily.
Portable Toolbox Set: For all your garage storage needs, Mac Tools has a wide range of portable toolboxes, including rolling carts, chests, and drawers in different sizes. Snap On also offers a comprehensive selection of high-end toolboxes for any workspace.
Automotive Repair Basic Tool Kit Sets: Both Mac Tools and Snap On provide complete sets of essential tools for automotive repair. With these, you can quickly diagnose and address any issue with your car or truck.
What Are the Special Features of Mac Tools And Snap Ons?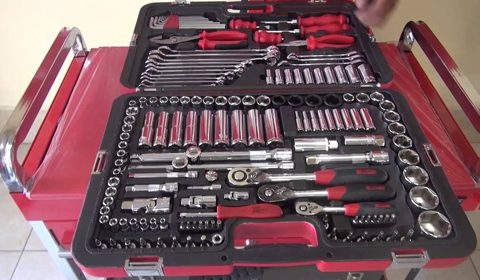 While both Mac Tools and Snap On offer top-of-the-line tools and tool kits, each brand has its own unique features that make it the ideal choice for different types of automotive jobs.
For Mac Tools
Mac Tools is focused on creating top-of-the-line tools and innovative, first-to-market products. They offer an exclusive range of tools that cater to every technician's need, from tool storage and shop equipment to power tools and specialty tools.
Tool storage includes chest, roller, and unique combination systems with patented features like quick release latching system and heavy-duty ball bearing slides for smooth operation. Mac Tool box also comes with a full array of accessories that provide custom workspace solutions.
Shop equipment like air compressors, pressure washers, and generators are designed for professional use in the workshop or garage.
For technicians who want the most from their power tools, Mac Tools offers a range of cordless drills and impact wrenches. These power tools are designed for long-term performance with features like variable speed controls for added control and microchip technology for improved battery life.
Specialty tools like diagnostic test kits, diagnostic software modules, repair manuals, and more will help technicians troubleshoot complex problems quickly and efficiently.
For Snap On
When it comes to Snap On tools, they are renowned for their excellent construction made from a special steel which gives them a greater alloying content. Their range of hand tools includes hammers, pliers, screwdrivers, chisels, and socket sets to tackle any job.
Other useful Snap On products include ratchet with ergonomic grip handles, allowing users to access hard-to-reach areas easily, plus Allen keys that feature different heads for different applications, such as bolts or hexagonal screws.
Tool chests are another popular product within the Snap On range featuring features like heavy-duty gas lifts or spring-assisted trays that can be opened by simply pressing a button on top of the unit. 
Overall, Mac Tools and Snap On both offer excellent ranges of reliable tools that make any job easier, whether it's around the home or in a professional setting. With their focus on innovation and quality construction, you can trust both brands have what you need to get the job done right the first time.
What Is The Top Selling Tool Brand?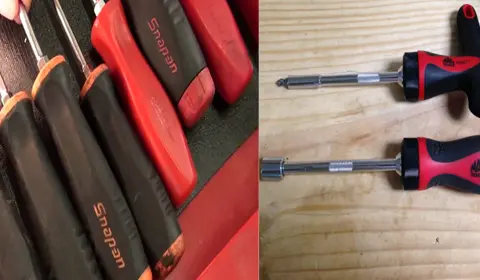 Both brands have gained the trust of mechanics and technicians across the globe due to their high-quality construction and thoughtful designs for the best automotive tools. Because of their quality products and customer service, both are rated highly in customer reviews.
Snap On is slightly more expensive than Mac Tools due to its higher material quality standards, whereas Mac Tools offers lower-priced options without compromising performance or durability much.
Both companies also offer extended warranty programs that allow customers to purchase additional coverage beyond what's included with the product they purchased originally at no extra cost.
Ultimately, it comes down to personal preference when deciding which brand to go with. Both offer quality tools with unique features that make them the ideal choice for different automotive jobs.
Possibly a Good Match: