Last Updated on February 5, 2023
Working with drywall tools requires more than just expertise. It also demands the right organization. Without a quality tool pouch, you risk losing essential items, being inefficient in your work, and even endangering yourself.
When it comes to outfitting yourself with the best drywall tool belt, there are several features you'll need to evaluate. The belt needs to be tough and adjustable. It also needs pockets to put your tools in so they do not fall out. Make sure the belt is easy to use with both hands.
We'll help you decide which type fits your project most suitable and even provide reviews of 5 top drywall tool belts for an informed decision-making process. Get ready to upgrade that kit.
Best Drywall Tool Belts: Editor's Choice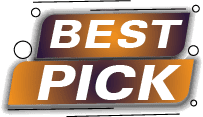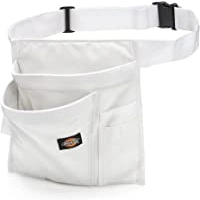 Dickies Single Side Tool Drywall Belt
The perfect tool belt for painters, carpenters, and builders
● Color: White
● Material: Canvas
● Number Of Pockets: Total 6
● Dimensions: 10.25 x 2 x 10.25 Inches
● Weight: 0.37 Pound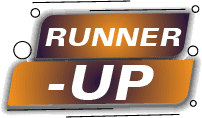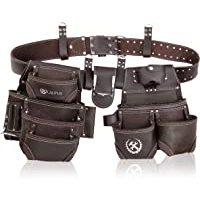 LAUTUS Drywall Leather Tool Belt Pouches
This belt is comfortable and lightweight for all-day wear
● Color: Brown
● Material: Leather
● Number Of Pockets: Total 18
● Dimensions: 24 x (4*2) x 8 Inches
● Item Weight: 5.24 Pounds
Our Top 5 Picks for the Drywall Tool Belts
When you're hard at work, there's nothing more essential than having the tools for the job close by. Here we have listed some of the best tool belts from trusted brands to help make your job easier.
1. Dickies Single Side Tool Drywall Belt
With the Dickies single-side tool belt, you'll be able to work hands-free and comfortably, crafted with a lightweight but snug fabric that adjusts perfectly. Its durable construction provides reassurance that it will withstand whatever your day throws at you. What's more?
Lightweight Fabric Is Easy To Wear
The Dickies single side tool drywall belt features a lightweight construction made of breathable fabric that ensures comfort throughout the day. The canvas fabric also has natural stretchability that provides flexibility for easy maneuvering when carrying your tools. Its lightweight design adds minimal bulk, so you can easily carry it around without feeling weighed down.
Have a Sturdy, Adjustable Belt for Comfort
This drywall tool bag has an adjustable buckle that allows you to customize the fit to your body type. It ensures a snug fit that stays in place while in use and won't cause chafing or discomfort after prolonged use.
The buckle also doubles as a sturdy support system that keeps tools secure even during strenuous activities such as climbing ladders or crouching down to reach lower heights.
Keeps Tools and Small Items Handy
The Dickies-57049 tool drywall belt has different pockets to hold tools and small items. This way, they will not fall out or get lost while you are working. The two large compartments are great for storing more significant items like hammers or tape measures, while the smaller pockets are perfect for holding screwdrivers and other tiny items in one place.
Durable and Long Lasting
This robust work belt is built with heavy-duty material that is both water-resistant and tear-resistant, making it capable of lasting through years of tough work environments without any signs of wear and tear. As well, all stitching lines are reinforced to ensure that they remain intact regardless of how much stress the fabric undergoes.
Easy To Fix If It Breaks 
If something breaks on the Dickies drywall tool pouch, it can be fixed at home without needing to spend a lot of money on tools or materials. This is because the pouch has hook and hammer loop fasteners that hold everything in place. If something needs to be replaced, it can be done quickly and easily. It makes this product cost-effective in the long run.
Positive Things:
Keep your tools organized and at your fingertips
Carry your tools with you from job to job
Heavy-duty canvas tool pouch with a total of 6 pockets
Get a durable, comfortable fit with adjustable waist sizes
Softens over time to make it easier to use
Insufficiencies:
Some users may find the belt and clip a bit large.
---
2. GlossyEnd Buckle Drywall Tool Belt
With GlossyEnd buckle tool belts in adjustable sizes, numerous pockets, and loops, you'll never have to worry about carrying your tools around. This durable yet comfortable solution keeps all of your essential items for work at hand. Now see what GlossyEnd has to offer.
Can Withstand Rough Use
The GlossyEnd tool belt is specifically designed for the toughest jobs. Its durable construction makes it withstand wear and tear from hard work and extended use. It's made with high-quality polyester materials that won't easily rip or tear under pressure, giving you peace of mind that your tools will stay secure even in the most demanding environments.
Plenty of Pockets and Loops
GlossyEnd buckle drywall tool belt has a total of 11 pockets and loops to store all your tools securely throughout the day. Its thoughtful design features multiple loops for power drills, hammers, screwdrivers, pliers, and more, so you can find what you need quickly and easily.
The multiple pockets on the large waistband also provide plenty of extra storage space for bits or small items like screws or nails.
Easily Adjust Belt Size
This tool belt features an adjustable size feature which makes it easy to adjust to fit nearly any body type comfortably. The flexible buckles allow for easy adjustment, while the heavy-duty nylon strap ensures a snug fit without slipping off during rigorous tasks. Having all your tools in one convenient place makes it ideal for anyone who needs an adjustable size option.
Saves Time Looking For Tools 
With its thoughtful design and ample storage space, the GlossyEnd drywall tool pouch helps save time looking for tools in cramped spaces or hard-to-reach spots around the job site. You can grab what you need quickly when working on projects requiring speed and accuracy, like hanging drywall or plastering walls.
Value Priced For Affordability
This drywall tool belt is durable and offers excellent value for money, considering its functionality and the quality construction materials used in its manufacture.
This product is built to last long, even if you use it often. It is also budget-friendly, which means it costs less than similar products. This product gives everyone access to essential equipment that professionals need.
Positive Things:
Keep your tools and nails close by with 11 pockets
Organize with 6 small pockets and 5 main nail and tool pockets
Durable construction with 600D polyester and rust-proof rivets
Adjustable belt fits most waist sizes
Quick release buckle makes it easy to take on and off
Insufficiencies:
Some users may have a problem with the belt sliding down.
---
3. LAUTUS Drywall Leather Tool Belt Pouches
Experience the quality and reliability of LAUTUS leather tool belt pouches for drywall that are suitable for professionals and enthusiasts. Stylishly designed and constructed from real leather, these pouches will keep your tools safe without falling out.
Sale
100% Genuine Leather
The LAUTUS tool belt pouch is made from high-quality premium-grade leather that is both strong and durable. This material ensures that your tools are well protected while providing a comfortable fit that won't irritate the skin. Also, its soft texture makes it easy to grip and ensures you have a firm hold on your tools when working in difficult conditions.
Ample Space for Tools
This leather belt tool pouch has plenty of room to store all your essential tools securely. It has several large pockets and compartments (a total of 18) and smaller pockets for carrying items such as nails, screws, or other small hardware items.
Furthermore, the adjustable straps allow you to customize the size of the pouch to your personal needs to store whatever tools you need for any job quickly and easily.
Fits Almost All Sizes 
The LAUTUS drywall leather tool belt pouch is designed to fit almost all sizes due to its adjustable straps.
Whether you're an amateur or a professional carpenter or electrician, this pouch will fit comfortably around your waist so that you can work without any hassle. Moreover, its lightweight design makes it easy to carry without adding extra strain or pressure on your back when wearing it for extended periods.
Perfect For Shop or Construction Use 
This tool pouch is ideal for shop work or construction use due to its top-notch materials and superior-quality craftsmanship.
Genuine leather ensures durability and strength while preventing wear and tear from constant use while protecting your valuable tools during work activities. It also has multiple pockets to store all your essentials in one compact place until you need them later.
Comfortable, Durable And Reliable 
This leather is soft but also strong and genuine. It is designed to be extra thick to protect against bumps or scratches. It is also comfortable to use for a long time. The reinforced stitching keeps this product from bursting at weak points even after multiple uses throughout tough projects and applications every day without fail.
Positive Things:
Oiled tanned leather for long-lasting use
Speed square pocket for every tool
Heavy duty for everyday job site wear
Great for carrying tools and supplies
It comes with suspender hooks
Insufficiencies:
Shorthanded people may have trouble reaching square pockets.
---
4. Custom Leathercraft Drywallers Tool Pouch Fits Belts
Make your job easier and look more professional while on the clock with Custom Leathercraft's tool pouch. The high-quality pouch fits most belts securely and has seven pockets for various tools. You'll love it if you want to stay organized in a small space.
Sale
Quality Construction and Design
The Custom Leathercraft drywaller's tool pouch fit belts are built with high-quality materials that ensure durability and longevity.
It is constructed with reinforced solid stitching leather, ensuring the pouch is tough enough to withstand harsh working conditions. The tool pouch also has an adjustable belt buckle, making it easy to adjust the fit as needed.
Comfortable To Wear
This tool pouch fits comfortably around your waist without causing discomfort or hindering movement when working.
You can adjust the straps to fit exactly how you need it, so you won't have to worry about the belt riding up or down throughout your day. Its lightweight design keeps you from feeling weighed down while working in tight spaces or at odd angles.
Perfect Size for Smaller Tools 
The Custom Leathercraft tool pouches fit belts offer storage space without taking up too much room on your waistline.
Its various pockets provide ample storage for small tools such as screwdrivers, pliers, wrenches, utility knives, and more without overburdening you. Each pocket has been designed with mesh backing to protect against dust and debris entering them daily. 
7 Pockets for a Variety of Tools 
This tool pouch features 7 different pockets that can hold just about anything, from small tools like screwdrivers or pliers to more oversized items such as hammers or saws.
No matter what type of work you do daily, this pouch has a pocket tailored explicitly toward it. This will help you keep everything organized in one place instead of having it spread out in different pouches around your waist.
Suitable For Men and Women 
The Custom Leathercraft Drywaller's tool pouch is explicitly designed with both men and women in mind. It provides a secure yet comfortable fit no matter what size frame you have.
This pouch blends seamlessly into any outfit, featuring black leather accents and tan nylon fabric. It is suitable for working professionals who need their tools close by but don't want them to ruin their look.
Positive Things:
Made of durable chrome-tanned leather
Keep your tools organized and secure while you work
Protect your hands and arms from nicks and cuts
Fit comfortably on your belt for easy access
Made of heavy-duty materials for long-lasting use
Insufficiencies:
Leather is not soft enough, and it may feel a bit uncomfortable.
---
5. Western Heritage Leather Brown Color Drywall Tool Belts
Western Heritage Leather is known for its durable and comfortable tool belts. They come in brown and can be used by left- and right-handed individuals. With enough space for tools and equipment, these tool belts are also easy to maintain.
Durable Leather Construction
Western Heritage Leather drywall tool belts are constructed with full-grain cowhide leather that stands up to long work days and holds its shape over time.
This top-quality leather material is oil tanned and has excellent abrasion resistance, which ensures the tool belt will last through many uses. Not only is the leather durable, but it is also water repellent which helps protect the contents of your pockets from spills and moisture damage.
Non-stiff and Comfortable
These brown-colored leather tool belts are designed to be lightweight yet strong so you can stay comfortable when carrying your tools around all day long.
The soft full-grain leather provides optimal padding along your hips, ensuring you don't get tired or sore during long hours at work. Additionally, the buckles are adjustable to find the perfect fit for your body size and shape.
Plenty of Space for Tools and Equipment
No matter what type of job you're doing, Western Heritage Leather brown color drywall tool belts offer plenty of compartments and pockets (a total of 7) so that you can easily store all of your essential items in one place.
The pockets are spacious enough to hold hand drills, screwdrivers, nails, pliers, hammers, wrenches, flashlights, and more. There are even loops on the side where you can clip items like tape measures or other small accessories.
Left and Right Handed Use
These great-looking tool belts come in both left-handed and right-handed use models, so no matter what hand preference you have, there's something for everyone. The model features different pocket arrangements so that both lefties and righties can use them without difficulty or discomfort.
Easy To Maintain
Cleaning these drywall tool belts is relatively easy since they feature a smooth finish that won't trap dirt or dust particles as other fabric materials do. All you need to do is wipe down the surface with a cloth using warm water plus mild soap to remove any residue buildup from daily use over time.
Positive Things:
Durable construction for a long-lasting tool belt
It can be used by both left and right-handed individuals
Spacious pockets to store all of your tools
Reinforcement seams for added strength
Most belt widths work with this pouch
---
Comparative Table of the Best Drywall Tool Pouches
| | | | | |
| --- | --- | --- | --- | --- |
| Product | Color | Material | Number Of Pockets | Item Weight |
| Dickies | White | Canvas | Total 6 | 0.37 Pound |
| GlossyEnd | Brown and Black | Polyester | Total 11 | 1.19 Pounds |
| LAUTUS | Brown | Leather | Total 18 | 5.24 Pounds |
| Custom Leathercraft | Tan | Multi | Total 7 | 0.2 Pound |
| Western Heritage Leather | Brown | Leather | Total 7 | 1.63 Pounds |
How to Choose the Best Tool Belt for Drywall?
Choosing the right tool belt for drywall is an important part of any job. Not only do you need the right tools to get the job done, but you also need to ensure that your tool belt fits properly and provides you with enough storage space.
Here are a few tips on what factors to consider when choosing the best tool belts for drywall:
Types of Tool Belts
Choosing the actual tool belt for drywall requires an understanding of different types.
Lightweight fabric tool belts provide a breathable and comfortable fit, making them ideal for hot summer days on the job. The lightweight material is often paired with adjustable straps and pockets, making it easy to store your tools securely.
On the other hand, leather tool belts offer superior durability and water resistance, making them great for long-term use in harsher conditions. Leather also provides more security for heavy-duty tools since it holds its shape better than fabric does.
Quality Construction and Design
When looking at the quality construction and design of a tool belt for drywall, there are several factors to consider, such as materials used, size adjustment capabilities, weight capacity, fitment options, etc.
The pockets should be able to keep your tools secure and organized while not getting in the way of movement or work efficiency. This means they should be deep enough to store the desired tools but not too big that they become bulky or impede movement.
And some tool holders belts come with additional features like back support or ventilation systems, so please take these into account as well when selecting one.
Comfort and Durability
Comfort is another crucial factor when selecting a tool belt for drywall. If it feels uncomfortable, you're less likely to want to wear or use it properly. You should look out for padded liners or other cushioning solutions, such as lumbar supports, which can further enhance comfort levels.
Lastly, make sure that the belt you choose is made from strong sewing quality that will not wear out easily. Overall durability ensures longevity so take note of any warranties offered by manufacturers before deciding.
Number of Pockets and Loops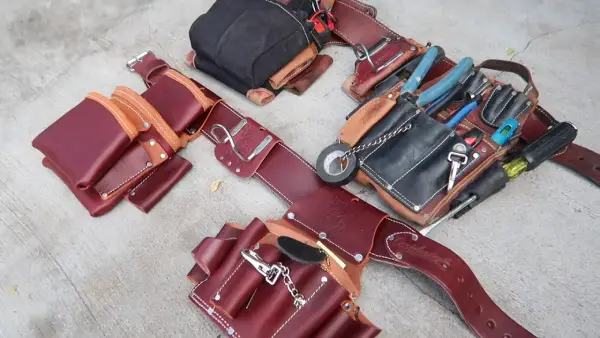 When choosing a tool belt for drywall, it is essential to consider the number of pockets and loops included. You want a belt with enough pockets and loops to accommodate your tools and supplies but not too many so that the weight of the tools becomes a problem.
Look for a tool belt with several large pockets and multiple smaller ones, along with loops on both sides that can hold hammers and other sundry items. The more pockets and loops the belt has, the better it will organize your tools.
Adjustable Size Options
The size of the tool belt should also be taken into consideration when selecting one for drywall use. Most tool belts come in adjustable sizes to fit people of any size or body shape.
Look for one with an adjustable waistband and straps that can easily be adjusted from small to large or vice versa as needed. This way, you can ensure a comfortable fit, making working with the tool belt more enjoyable.
Left or Right Handed Use
To make sure you choose the best tool belts for drywall, consider whether or not it is designed for left-handed or right-handed use.
Some belts are designed specifically for either right-handed or left-handed users, while others are ambidextrous and work well regardless of which hand you use. If you are unsure which type you need, go with an ambidextrous version, as this will give you maximum versatility when using your tools in different configurations.
Easy-to-Fix Construction 
Finally, when selecting a tool belt for drywall purposes, it is essential to look at how easy it is to repair if necessary. Drywall projects often involve heavy-duty construction materials like wood beams and metal studs, which can strain your tool belt if not properly constructed.
Choose a belt made from durable materials such as canvas or leather that have reinforced stitching to ensure its longevity over time and its ability to be repaired if necessary down the line.
How Do You Use a Drywall Tool Belt?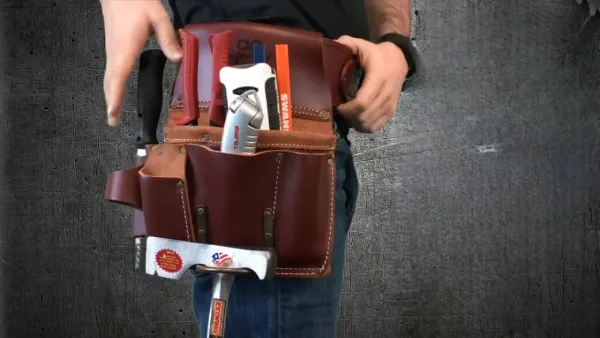 Step 1: Put the drywall tool belt around your waist, and adjust the straps so that it fits snugly to your body. Make sure the belt has the correct size for you by checking that it is not too tight or too loose. 
Step 2: Organize your tools in an orderly fashion within the drywall tool belt's pockets, pouches, and loops. Place heavier tools such as drills, hammers, and nails on one side of the belt and lighter items such as screwdrivers, putty knives, and sandpaper on the other. 
Step 3: Secure any items that could fall out of a pocket or pouch using velcro straps or hooks. This will ensure that your tools stay in place while you are working. 
Step 4: Fasten any loose items to your belt by using hooks, clips, or magnets. These items may include tape measures, dust masks, goggles, plumb bobs, and levelers. 
Step 5: When carrying extensive tools such as a plaster trowel or pole sander, use the loops provided on either side of the drywall tool belt to hang them securely against your body. Doing this will provide extra support for these types of tools which can be pretty bulky when carried separately. 
Step 6: Wear gloves when handling sharp tools like knives or saws to protect yourself from accidental cuts or lacerations. Keep these dangerous tools close at hand but far away from children who may be nearby while you are working with them. 
Step 7: Once each job is done and you've gathered up all your tools, unload them from your drywall tool belt and store them safely in their designated storage area. This will help to keep your equipment organized and ready to go when needed again.
How Do You Organize Drywall Tool Pouches?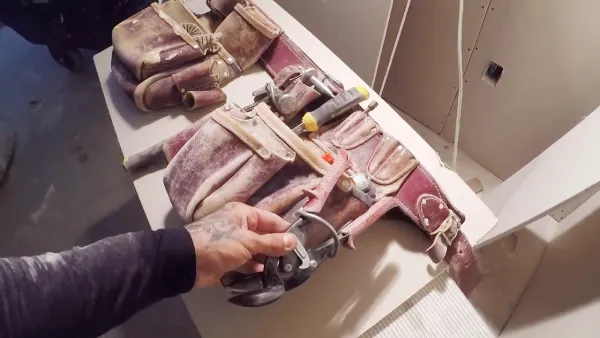 Organizing your drywall tool pouches is best done with an approach that suits the user's dominant hand. This can help keep tools in easy reach and easily identifiable, resulting in a more efficient workflow.
You should organize the tools by type or task they are used for is recommended, as this allows for quick access when needed. Also, having items on the left and right side of the pouch helps balance weight distribution, allowing for more comfortable use.
What Fabric Are Drywall Tool Bags Made Of?
Drywall tool bags are commonly constructed from various materials such as top-grain cowhide saddle leather, nylon, canvas, or polyester.
These materials provide durability and strength to withstand wear and tear from frequent use while protecting the contents inside from water damage. Also, drywall bags may feature extra pockets and compartments for organization purposes.
What Sector Do Drywall Tool Belts Use?
Drywall tool belts are widely used in various sectors, such as the construction industry. Electricians, carpenters, steelworkers, plumbers, and other tradespeople frequently use these belts to securely store their essential tools while working on projects or tasks at hand.
The structure and design of these belts allow them to be worn comfortably throughout long workdays while ensuring quick access to necessary tools when needed.
How Do You Break Into the Best Tool Belt for Builders?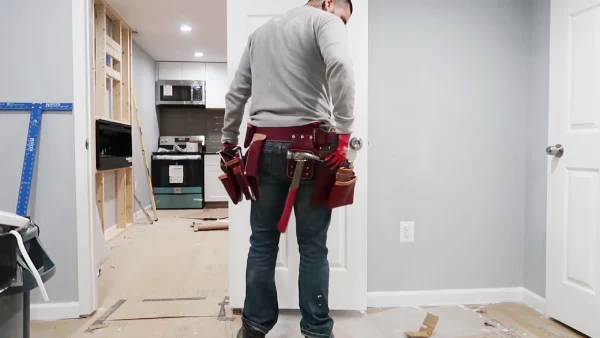 The right way to break into a tool belt for builders is to spray it with lighter fluid or a mixture of water and rubbing alcohol. This ensures that the leather won't be too brittle and will break in faster than just leaving it untreated.
Start by removing any dust or dirt from the surface of the leather. Then, apply an even layer of either lighter fluid or the water-alcohol mixture onto the belt with a clean cloth or brush. Finally, work the leather with your hands, moving them over it in slow circles until it softens and becomes more pliable.
What Tools Should Be In a Carpenter's Drywall Tool Belt?
A carpenter's drywall tool belt should contain all of the necessary tools for tackling carpentry projects. These include a claw hammer, chalk line, carpenter's pencil, pen or sharpie, putty knife, lineman pliers, utility knife, measuring tape, level, stud finder, and drywall saw.
Also, having screwdrivers in both Phillip's head and flathead varieties can also come in handy when working with drywall construction. Lastly, some form of adhesive, such as caulk, may be needed to seal seams around windows and door frames after drywalling.
What Are the Advantages of Using a Drywall Tool Belt?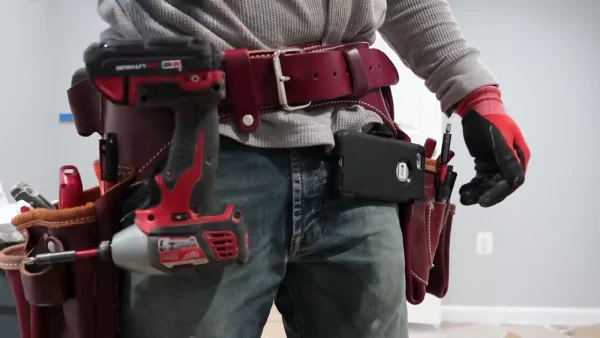 Using a drywall tool belt offers several advantages over carrying traditional hand tools separately.
First of all, it helps save space by keeping all your tools together in one place like OX tools, making them much easier to take from site to site.
Also, it increases efficiency by allowing you to have quick access to all your required tools, so you don't have to waste time searching for specific items during work sessions.
As a bonus, having all your tools stored together prevents them from getting misplaced or lost as quickly. So you don't have to worry about tracking down missing items every time you start working on a project again (which can be an added source of frustration).
Finally, these belts are versatile and can be used for various applications such as carpentry work on walls and floors, constructing furniture, hanging pictures, tiling, and more.
How Do You Care and Clean Your Drywall Toolbelt?
Caring for a drywall tool belt is vital to ensure that it remains in good condition and can be used for a long time. To clean the belt, use a damp cloth with mild soap and water to remove dust or debris.
Ensure all the tools are removed before cleaning and wipe down the pockets, straps, and buckles. Afterward, let the belt air-dry at room temperature. And do not store the tool belt in direct sunlight or near a heat source, as this can cause it to degrade faster over time.
Do Drywall Tool Belts Hurt Your Back?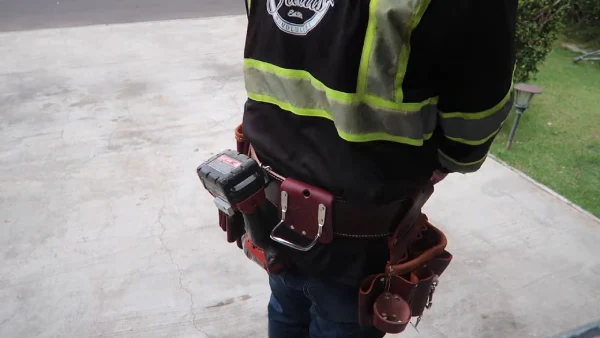 Wearing a heavy drywall tool belt for extended periods can lead to back pain due to the strain it puts on your lower back and hips. This pain can be prevented by carefully evaluating your weight and ensuring you don't overload your belt with unnecessary items. Regular breaks throughout the day will also help reduce fatigue associated with wearing a heavy tool belt.
Why Invest in a Good Quality Drywall Tool Belt? 
A high-quality drywall tool belt is essential when working on any construction project, as it provides comfort and support while keeping your tools handy. High-quality belts are made of materials like leather or canvas, which makes them durable and able to last a long time.
They also have extra padding, which helps to distribute the weight of your tools more evenly across your body and makes them more comfortable to wear while working. So, choosing the best drywall tool belts for your needs isn't something that should be taken lightly.
Different styles offer different advantages and disadvantages depending on the type of work you are doing. Once you have weighed all the factors mentioned in this blog post, you can decide which type of tool belt is most suitable for your needs.
Therefore, we recommend Dickies-57049 drywall tool belts for both beginners and professionals. This great drywall tool belt can organize everything you need. It'll make you feel comfortable and confident while working. So, this one might be good for you.