Last Updated on March 18, 2023
Are your tools not securely at hand? If you're a carpenter, plumber or electrician, and even if you just like to get handy around the house, having reliable suspenders for your toolbelt could be key. Don't let them slip off when putting in those long hours onsite.
Suspenders are all about getting that extra bit of help and comfort when you're hard at work, like installing drywall or just about whatever, but don't be fooled. If not attached properly, they'll do more harm than good.
To join up your suspender-tool belt combo the right way: face the D ring on the rear of your tool belt towards, then feed the clip through for an accurate fit.
Check out this article for all you need to know about properly attaching suspenders, plus bonus information and helpful product recommendations.
How to Attach Suspenders to Tool Belt During Drywall Work: Step-by-Step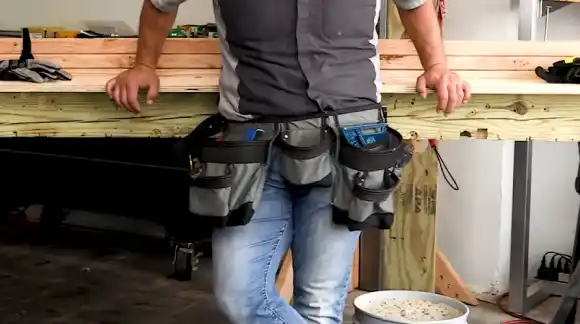 Attaching suspender straps to a tool belt is an important step for anyone who wears one for drywall work. To ensure maximum comfort and security, follow these steps:
Gather the necessary materials:
Suspender straps 
Tool belt with appropriate adjustable buckles and clips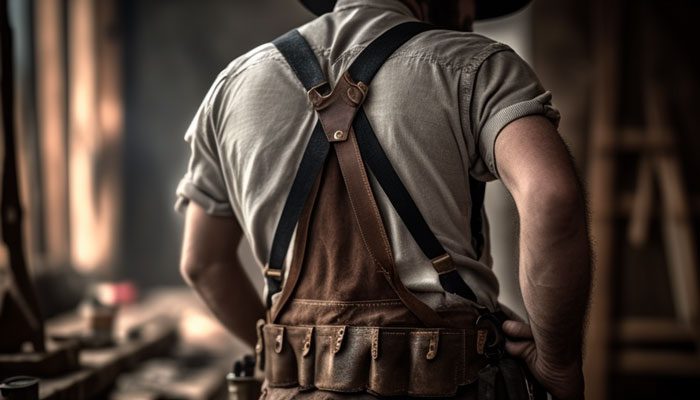 Step 1: Attach the Suspenders to Your Belt
Begin by facing the D rings up, and then slide the loops on top of your belt. In the case of one-piece suspenders that already have attachment clips built-in, you will need to buckle or clip them securely on both sides.
If needed, you can use a slider/clamp system or quick-release buckle to adjust the length of each strap accordingly. All straps should be securely fastened to your belt to ensure you can work on drywall comfortably without feeling tight or uncomfortable. 
Step 2: Adjusting the Straps for Comfort and Fit 
It's important that the suspender straps don't dig into your shoulders or that they pull too tightly around your neck area. To ensure this doesn't happen, try on your tool belt before making any adjustments.
Prior to adjusting the shoulder strap length, make sure it rests comfortably against your body. If needed, you can use either a quick-release buckle or an adjustable slider/clamp system located near each strap end to adjust their length accordingly.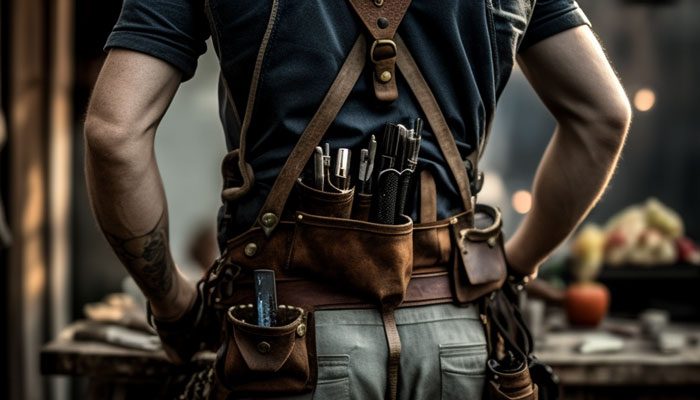 Step 3: Finishing Touches
Once all adjustments have been made, it's now time for some finishing touches. First, ensure all buckles, clips, and sliders used to secure the suspender straps are tightly closed so they do not come undone during drywall construction.
Then check for any loose fabric where it could get caught in tools or other equipment as you work on the drywall. If there is any excess material, simply fold it up towards your body for safety purposes.
Benefits of Attaching Suspenders to Tool Belt for Drywall Work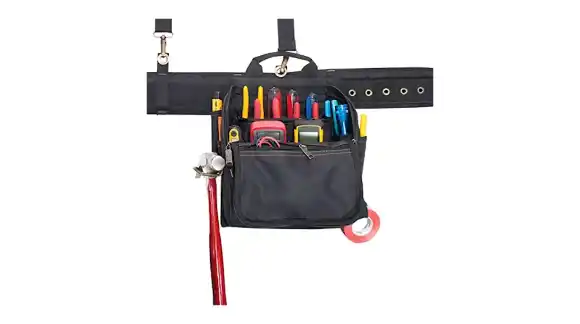 Suspenders are an important accessory for any tool belt. Not only do they keep the belt secure and in place, but they also provide several other benefits that you may not have thought of while working on drywall. Here are a few:
Increased Comfort
Wearing a heavy-duty tool belt to work on drywall can be uncomfortable and tiring after a long day, even if it's well-padded. Suspenders allow you to evenly distribute the weight across your shoulders and hips, making it more comfortable to wear for prolonged periods. 
Improved Mobility
Not only do attach suspenders ease discomfort, but they also provide better mobility during activities such as bending over or climbing ladders. This improves safety greatly as you don't have to worry about getting tangled up in your belt while on the drywall job.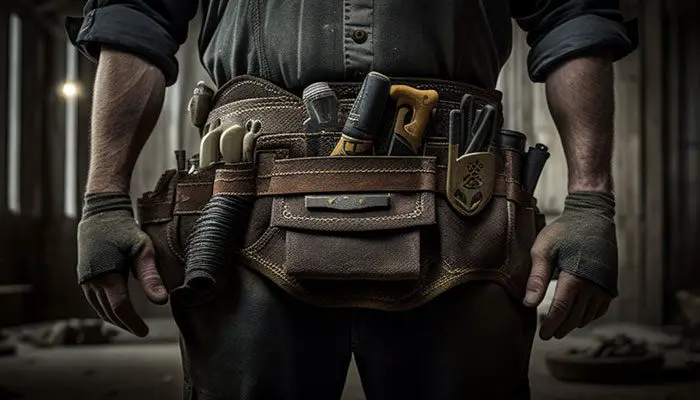 Reduced Backache
Wearing a heavily loaded tool belt without suspenders can be detrimental to your back health over time due to uneven weight distribution. Attaching suspenders helps spread out this weight better, so you avoid potential aches and pains at the end of the day. 
Enhanced Safety
Along with making it easier to work at heights or with power tools, suspenders with tool belts keep everything in place and prevent items from falling out. Something that is common when working in tight spaces like hanging drywall or within confined areas of a building or vehicle engine bay.
Ease of Accessibility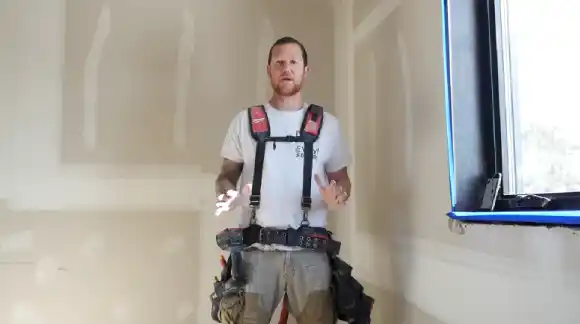 One major advantage of wearing a tool belt with suspenders is improved accessibility and convenience when reaching for items. You can simply shift them upwards by using the straps attached to your shoulders instead of having to unclip them.
Less Risk of Slippage
While belts alone feature adjustable clips for an exact fit, wearing one without proper support always carries a risk. Attaching suspenders creates extra tension around your midsection, so this isn't an issue anymore.
Improved Aesthetics
Last but not least, wearing a toolbelt with suspenders looks professional and stylish. Many people use this setup as part of their casual workwear as well, usually by pairing it with chinos or jeans along with sturdy boots.
Some Recommended Suspenders for Tool Belt Use When Drywalling
Suspender needs to be strong enough for the heavy-duty tools you'll be carrying around on drywall projects, ready and reliable, so it won't let you down at crunch time. Listed below are some recommendations:
Adjustable Size Padded Suspenders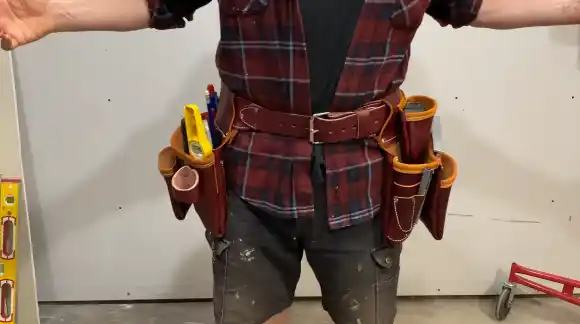 It is a perfect companion to any tool belt combo system. These high-quality suspenders are designed with heavy-duty 600D polyester fabric and feature four spring hooks with nickel plating for added durability. Fully adjustable straps allow wearers of all body types to customize their fit, providing up to 36-50 inches of adjustment.
The padding on the shoulders helps absorb shock and distributes weight evenly, reducing fatigue or discomfort. No matter what environment you work in, you can stay comfortable with these suspenders.
Construction Work Suspender Tool Belt
This Suspender is perfect for any handyman or DIYer, providing the ultimate support while working on all your projects. The adjustable chest strap fits most, while the heavy-duty clip allows you to attach it to any type of tool belt (not including leather belt) without trapping heat and moisture.
The detachable phone holder makes it easy to stay connected, and there's even an extra carabiner included as a free gift. For added stability, there are also four pieces of suspender loops that help keep the tool belt in place. It'll give you the comfort and support needed for long days at work.
Heavy-Duty Leather Tool Belt Suspender
These Heavy-Duty suspenders are crafted from 0.2″ thick top-grain buffalo leather. These suspenders are both flexible and strong enough to give you the support you need without constricting your range of motion. The adjustable length ensures that they provide a comfortable fit while keeping your tool pouches firmly in place and balanced.
Plus, the tough occidental leather won't wear out or tear even on long days of drywall work or anything else. Whether you're handy around the house or you're experienced in carpentry, these genuine leather tool belt suspenders will make sure you never run out of work gear.
Work on Drywall: Where Should Suspender Clips Go On the Tool Belt?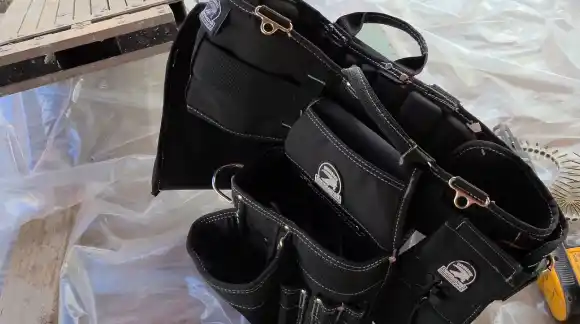 When attaching suspender clips to a tool belt for drywalling, it is advised that they go in the middle at the top of the backside of the trousers for maximum comfort and stability. If no center belt loop is available on which to attach a clip directly, then two can be used instead of either side.
One clip on either side will provide sufficient support while still not being too bulky around your waistline. Attaching each clip at approximately a 45-degree angle also helps ensure that your trousers won't soon start sagging from lack of support. This will also help keep your shirt tucked into your pants if you want.
Is There a Standard Size For Suspenders That Will Fit Most Tool Belts?
Whether you're shopping for a fancy accessory or the perfect fit to keep your tool belt in place, suspenders come in various sizes. If you're hunting down some dapper straps for toddlers, look no further than sizes 20-25 inches. For those needing extra support and length (Big & Tall crew), try sizing up with options ranging from 60-65 inches.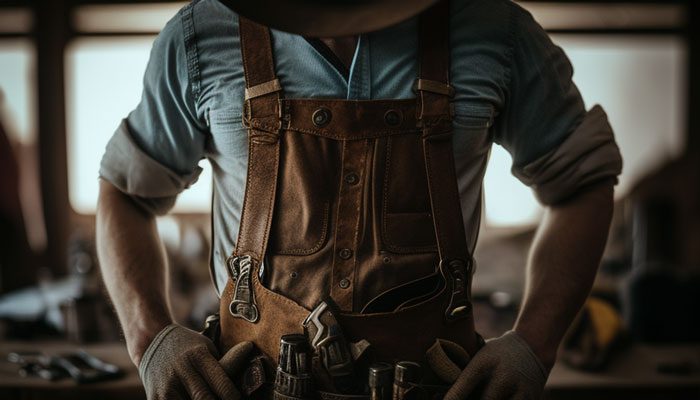 There are different sizes of suspenders for different types of tool belts, so be careful when you're looking for suspenders that match your belt. Some manufacturers may offer adjustable straps on their suspenders intended for use with drywall. Depending on the size of your belt, you may have to measure it first.
Suspender Clips: What Are They Called?
Suspender clips, sometimes referred to as alligator clips due to their large teeth, are a type of hardware used to connect two objects together. Unlike more traditional clips that require users to squeeze the clip to open the jaws from the tool belt.
One hand operation is required to open suspender clips and clip them onto materials of different thicknesses due to their latch design. The clip's wide teeth provide superior gripping power and are great for securing items during tough projects like drywall.
They can also be adjusted by sliding the hardware along one of the straps or connected cords. Suspender clips come in various sizes, styles, and colors, making them versatile enough for a variety of uses.
Do Suspenders Buttons Go Inside or Outside?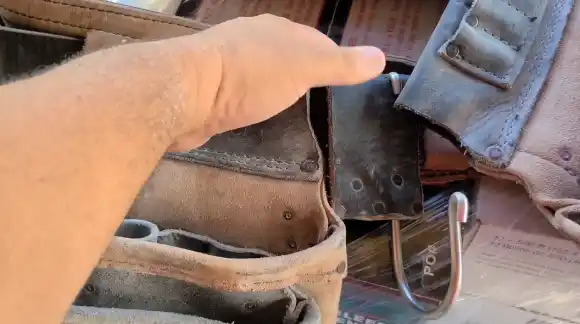 The general rule of thumb when it comes to wearing suspenders is that the buttons should hook inside one's pants. This applies to dressier and more casual clothing styles, as the buttons' traditional placement is on the inside.
Conversely, in some cultures and regions, such as in certain parts of Latin America and Europe, it is more common for suspenders to be worn with buttons placed on the outside. Ultimately, there is no one correct answer when it comes to choosing which way to wear one's suspenders on a tool belt.
Rather, personal preference will dictate how one wears them.
Get Crafty With Confidence: Suspenders on Your Tool Belt
Forget wrestling with a heavy tool belt, attach some suspenders, and your job just got easier. Durable and dependable, these trusty suspenders make it comfortable for you to take on any project like drywall or other installation. And if you look after them right, they'll lend their support for years.
When shopping for or using suspenders with your tool belt, knowing where to put the clips, what size fits, and a good quality suspender gives you an advantage. So now you know how to attach suspenders to the tool belt, you can work more confidently and comfortably.