Last Updated on February 1, 2023
Nothing ruins the beautiful home aesthetic more than pesky drywall imperfections. If your drywall is starting to look like a patchwork of cracks and holes, don't despair. When repairing those pesky imperfections or installing new drywall sheets, ensure you go beyond the obvious with quality drywall tape. 
Durability and adhesion are the key elements to look for when searching for the best drywall tape. The material should be strong and resilient that won't break down in highly humid environments or other tough areas. 
To get long-lasting results, the adhesive must stick to any surface, from traditional drywall to masonry surfaces, without stretching or tearing.
The quality tape also comes with UV protection, fire retardants, and mildew inhibitors to help prolong its life. Along with being durable, decent drywall tape should also be thin but flexible to blend into seams without leaving bubbles or creases. 
Find out what kind of drywall tape you need, and check out some top-rated drywall tape reviews.
Best Drywall Tape: Editor's Choice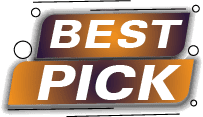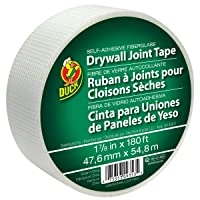 Duck 282083 Self Adhesive Drywall Joint Tape
Strong 180 feet fiberglass mesh drywall joint tape with self-adhesive backing
● Material: Fiberglass mesh
● Length: 180 feet
● Width: 1.88 inches
● Self-adhesive: Yes
● Repositionable: Yes
● Color: White
Strong, fast, and smooth coverage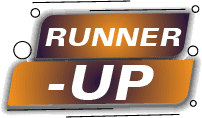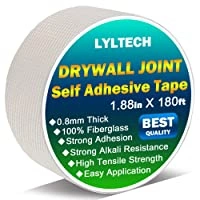 Lyltech Waterproof Drywall Tape
Waterproof, self-adhesive drywall tape with superior tensile strength and alkali resistance
● Material: Fiberglass Mesh
● Length: 180 feet
● Width: 1.88 inches
● Self-adhesive: Yes
● Repositionable: Yes
● Color: White
Alkali resistant, and all-weather use
Top Strong Drywall Tape: 5 Reviews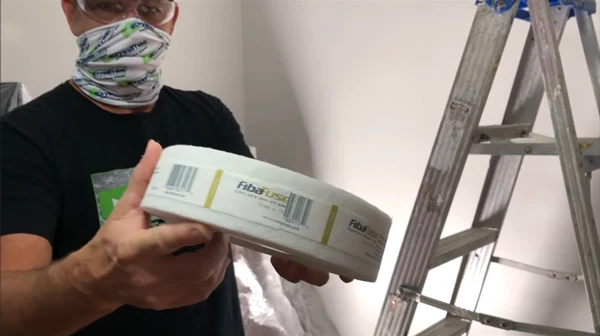 An important resource for choosing drywall tape is product reviews. An analysis of reviews can provide insight into the quality of a product, along with how well it performs in real-world conditions.
When it comes to comparing different products, reviews can serve as a valuable source of information. Reading reviews will give you a better understanding of which product might be a good fit for your needs.
Checking reviews before making a purchase can help you to avoid making a mistake that could cost you time and money in the long run. The following is a list of five of the top-rated drywall tape reviews.
Take a look at their features, benefits, and drawbacks to decide which one would be most suitable for your needs.
1. Duck 282083 Self Adhesive Drywall Joint Tape
Using Duck brand tape, you can repair holes and cracks without applying joint compound beforehand. You can achieve a professional finish in your drywall projects with this single roll of self-adhesive fiberglass mesh tape.
Key Features at a Glance:
100% fiberglass mesh
Self-adhesive backing
Smooth coverage
1.88 in. x 180 ft. roll
Reasons That May Attract You:
Durable Fiberglass Mesh: This tape is made from an extremely strong yet flexible 100% fiberglass mesh that conforms to any necessary angles or curves. It's suitable for any drywall repair job, whether it's an inside corner, an outside corner, or a cracked wall.
Self-Adhesive and Repositionable: As this tape is self-adhesive, there is no requirement to apply a joint compound before using it.
Just peel off the backing and press firmly into place for a secure hold. And if you make a mistake, simply reposition the tape and press it into place again for an effortless repair.
Quick and Easy Repair: Using this self adhesive drywall joint tape will help you quickly and easily repair holes and cracks in drywall. It covers smoothly for a professional finish and ensures the repair looks great.
Long Enough: This 180-foot roll of tape is long enough to complete any project. There is no need to worry about running out of tape before the job is complete.
Pros:
Long-lasting and durable fiberglass mesh
Self-adhesive and repositionable for easy repairs
Repair drywall holes and cracks quickly
Provides a smooth finish for a professional appearance
180 feet long enough for any project
Cons:
Adhesion may be a little bit weak for some applications
---
2. Lyltech Waterproof Drywall Tape
When you need to repair drywall corners, roof cracks, or small holes, Lyltech drywall tape can be your go-to solution. You can get smooth, waterproof ends with this heavy-duty, self-adhesive tape.
Key Features at a Glance:
Durable fiberglass mesh construction
High-density, strong alkali resistance
Self-adhesive and repositionable
All-weather use
1.88 inches wide x 180 feet length
30 pounds tensile strength
Strong rubber-based adhesive
Reasons That May Attract You:
Commercial-grade: The strong, high-density fiberglass mesh construction of the Lyltech drywall tape makes it extremely durable and long-lasting for professional-grade performance.
Easy to Use: Unlike traditional drywall tape, this self-adhesive tape from Lyltech has a strong rubber-based adhesive that is easy to reposition and remove. Due to this, it is well suited for difficult work or tight corners where more control is necessary during installation.
Good Weather Resistance: Weatherproof construction makes this drywall tape suitable for all weather conditions, both wet and dry. This makes it suitable for use on exterior walls and other outdoor applications.
Multi-purpose Use: The Lyltech waterproof drywall tape can be used on various materials, including rubber, plastic, cement, and wood, making it a viable choice for all kinds of projects. You can use it for repairing corners, roof cracks, and small holes in drywall.
Good Length: The tape measures 1.88 inches in width and 180 feet in length, so you can expect to have enough on hand for your project needs.
Pros:
100% fiberglass mesh construction for strength and durability
Weaving technology with high tensile strength and alkali resistance
Self-adhesive and repositionable with a strong rubber-based adhesive
Suitable for all weather conditions, wet or dry
Cons:
The tape's adhesive is not very strong, but it is certainly adequate
---
3. EDSRDRUS Drywall Joints with Mesh Tape
This drywall joint tape from EDSRDRUS is affordable but provides excellent quality and performance. It is useful for repairing wall cracks, patching seams, and strengthening walls to provide greater strength.
Key Features at a Glance:
Fiberglass mesh
Self-adhesive
Repositionable
High-performance holding
Alkali resistant
2-inch wide x 100 feet long
Reasons That May Attract You:
Eliminate the Need for a Pre-Coat of Drywall Compound: Due to the self-adhesive feature of EDSRDRUS drywall joints tape, a pre-coat of joint compound is not necessary, resulting in substantial time and effort savings.
High-Performance Holding: The tape provides high-performance holding for wall repairs, ensuring that it won't become loose or detach from the wall over time.
Easy to Use: The EDSRDRUS drywall tape is simple to install, with no complicated steps needed for the application. Simply cut the tape to a suitable size, place it on the wall, and apply the drywall compound smoothly. Depending on your needs, you can reposition the tape.
Wide Range of Use: You can use this drywall repair tape for various purposes, from interior wall decoration to preventing walls from cracking. It can also strengthen the bottom wall for added durability.
Long-Lasting: The tape is made of high-quality fiberglass material that is durable and long-lasting. This ensures that the wall repairs will remain intact for the foreseeable future.
Alkali Resistant: This tape is alkali resistant, providing extra protection from the elements and making it suitable for use in different climates.
Achieves a Smooth and Flat Finish: The open glass fiber mesh design of this drywall joint with mesh tape helps to eliminate water and air bubbles, producing a flat and smooth repair.
Pros:
Self-adhesive, does not require pre-coating with joint compound
High-performance holding for secure wall repairs
Durable and long-lasting fiberglass material
Extra protection against alkalis
Can be repositioned according to needs
Cons:
Some areas may have weak adhesion
---
4. LLPT Fiberglass Mesh Drywall Joint Tape
LLPT's drywall tape is a heavy-duty, industrial-grade repair tape that prevents cracks and holes in drywall and ceilings from recurring.
The self-adhesive and repositionable nature of this product makes it easy to use without the need to apply the joint compound before installation.
Key Features at a Glance:
Self-adhesive
Anti-corrosive
Interior and exterior use
4-inch x 100 feet roll
Fiberglass construction
Reasons That May Attract You:
Strong Fiberglass Material: This drywall tape is made of strong fiberglass mesh that stands up to wear and tear, offering extra strength and durability.
Self-Adhesive: The self-adhesive backing allows the tape to be repositioned and stuck in place securely. You don't have to worry about the tape slipping or coming loose. This helps you get a professional finish every time.
Anti-corrosive: You won't have to worry about rust and corrosion when using this drywall tape. The fiberglass mesh is resistant to corrosion, ensuring the tape lasts longer.
Multi-purpose: This drywall tape is suitable for use both indoors and out. You can use it on cement, tile, wood, plaster, concrete, paint, and more, making it a great choice for various repair and patching jobs.
Easy to Cut and Manage: The LLPT fiberglass mesh drywall joint tape is easy to cut using scissors or a utility knife. This makes it easy to work with, even for beginners.
Clean Finish: You'll get a professional-looking finish when you use this drywall tape. It provides a protective layer against heat and cold, making your repairs last longer.
Pros:
Strong fiberglass for extra strength and durability
Self-adhesive to ensure secure adhesion
Anti-corrosive material that resists rust and corrosion 
Multi-purpose tape suitable for interior and exterior applications 
Easy to cut and manage with scissors or a utility knife 
Cons:
Might not be suitable for use on very rough or uneven surfaces
Bubbles may occur during incorrect tape application
---
5. IPG Paper Drywall Joint Tape
This product from IPG is paper-based drywall tape, which provides a quick and easy way to seam drywall joints. You can rely on the outstanding resistance to wrinkling, stretching, and other distortions of this paper drywall tape.
Sale
Key Features at a Glance:
Smooth paper based
Good tensile strength
Exceptional wet strength
Resistant to distortions
2.06-inch width x 250 feet long roll
ASTM C475 certified
Reasons That May Attract You:
Superior Tensile Strength: The cross-fiber papers offer good tensile strength in both directions, making it very strong and resistant to breaking.
Exceptional Wet Strength: Even when exposed to moisture or humidity, the tape maintains its excellent adhesion properties, ensuring a durable joint that stands up to repeated interior decoration projects.
Resistant to Distortions: When you apply drywall tape, it stays flat and undistorted for a smooth finish. This ensures a more professional-looking job when you're done.
Long Coverage: The 2.06 inch x 250 ft roll of this tape covers a large area quickly and efficiently, making it ideal for large-scale jobs.
ASTM C475 Certified: The IPG paper drywall joint tape is certified to ASTM standards, meaning it meets the highest safety and quality standards, so you can trust its performance.
Pros:
High tensile and wet strength for reliable results
Resistant to stretching, wrinkling, and other distortions
250 feet long coverage for large-scale projects
ASTM C475 certified for safety and quality assurance
Roughened surfaces provide a better bond to joint compound
Cons:
You need to use drywall compound first since this tape has no adhesive
---
Comparison Chart of the Best Tape for Drywall Repair
| | | | |
| --- | --- | --- | --- |
| Product Name | Material | Size | Self-adhesive |
| Duck Brand 282083 Drywall Tape | Fiberglass | 1.88 inch x 180 feet | Yes |
| LYLTECH Drywall Tape | Fiberglass | 1.88 in. x 180 ft. | Yes |
| EDSRDRUS Drywall Repair Tape | Fiberglass | 2 inch x 100 feet | Yes |
| LLPT Drywall Repair Tape | Fiberglass | 4 inch x 100 feet | Yes |
| IPG Drywall Tape | Paper | 2.06 inch x 250 feet | No |
Factors to Consider When Choosing the Best Drywall Tape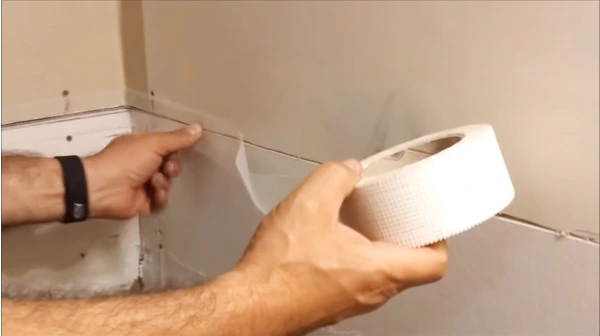 The selection of drywall tape should be based on several factors. Because it is a critical component of the drywall system, you'll want to ensure it is of good quality and suited for your particular application.
After all, it is responsible for ensuring a strong and durable drywall joint. Here are some of the factors you should consider for the best drywall mesh tape.
1. Type of Tape
The first thing to consider is the type of tape you need. You already know what type of tape you need to use. Let's examine how you can determine whether the product is made from fiberglass or paper.
Look for the product image to identify the tape type. Fiberglass mesh tape has a square grid structure, while paper-based tape is similar to regular paper. Then you can focus on the title and description of the product, which will specify the type of tape.
2. Roll Length and Width
Ensure that the tape is the correct length and width before you purchase it. Due to the fact that not all tape rolls are the same size. Some tapes are available in shorter lengths, such as 25 or 50 feet, while others are available in much longer lengths, such as 180 feet or more.
Whenever possible, try to obtain a long roll of tape. As long as your application is small, you can store and use the remaining tape in the future.
You should also make sure that the width of the roll is appropriate for your drywall. Generally, a 1.88 to 2-inch width is enough for most drywall jobs. You can find all the details in the product descriptions.
3. Strength and Durability
When selecting drywall tape, you must ensure that it is strong and durable. Inspect the product description to find out what kind of tensile strength and wet strength it has. This will help you determine the quality and performance of the tape.
To know more about drywall tape, you can check out the reviews from other customers. It will give you a good indication of the product's quality and performance.
4. Adhesion Property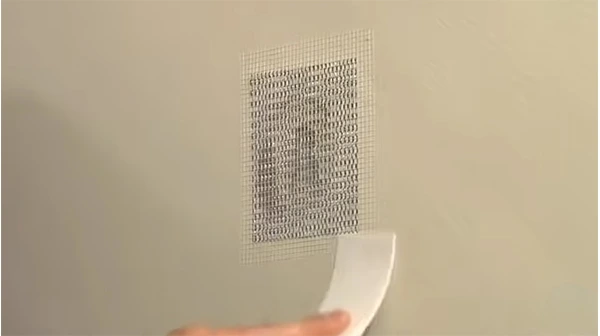 When you choose fiberglass drywall tape, you must make sure that it has a good adhesion property. This means the tape should be able to stick firmly onto the wall and will not come off easily.
It should also be easy to apply and blend into the wall with minimal effort. To determine whether the tape is easy to apply and adheres well to the wall, you need to read the product description and reviews.
5. Alkali Resistant
Choosing an alkali-resistant tape is also important. The tape should be capable of resisting chemicals and moisture from seeping through, which may deteriorate the drywall.
The alkaline-resistant property ensures a long-lasting seal between joints and greatly reduces the risk of water damage. Check the product description to see if the tape is alkali-resistant or not.
6. Indoor/Outdoor Use
You should also consider where you will use the tape. Some tapes are suitable for indoor use, while others are suitable for both indoor and outdoor use.
Consider the environment you'll be working in and select a tape that is designed for it. This will ensure that the tape is up to the task and won't let you down.
When a product states that it is both indoor and outdoor-friendly, ensure that it has the right features to withstand the elements outside. The outdoor elements will be much harsher than indoors, and the tape needs to be able to stand up to these elements.
A good waterproofing property and heat and cold resistance should be present in the product. Make sure to check these properties before you buy the product.
What Tape Is Better for Drywall?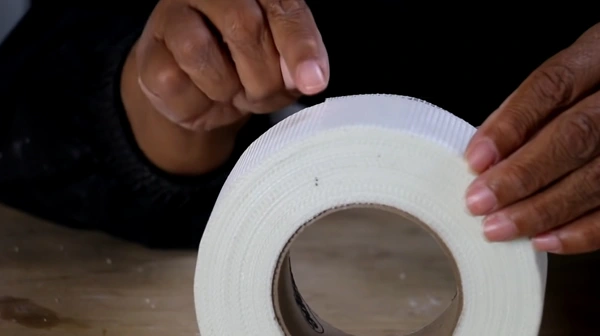 Drywall tapers have a wide range of options to choose from, but paper and fiberglass mesh tapes remain the most popular choices due to their reliability. 
There are four main types of drywall tape: ultra-thin fiberglass tape, metal-reinforced paper tape, and those two dependable staples. Whether you're patching up an old wall or starting something new altogether, they've got you covered.
Fiberglass mesh tape has a self-adhesive backing, so it's quick and easy to use with no need for drywall mud. It is also resistant to heat and cold, making it suitable for both interior and exterior applications. 
Also, fiberglass mesh drywall tape provides superior mold resistance in humid climates, an important factor when considering which type of tape is most suitable for a particular project. 
The fiberglass mesh tape also has a high tensile strength, meaning it won't distort or damage for a long time.
The paper tape doesn't have an adhesive backing and needs to be applied with drywall mud. This requires more time than applying adhesive-backed tapes such as fiberglass mesh but may provide a smoother finish due to its greater resistance to distortion. 
Paper tape is particularly useful for butt joints as it can be overlapped easily without tearing or stretching out of shape due to its greater flexibility than other types of tape. 
Ultimately the decision on which type of drywall taping is suitable will depend on several factors, such as the application (interior/exterior), climate conditions (humidity level), and desired finish (smoother/tougher). 
Fiberglass drywall tape reinforces joints and offers convenience through its self-adhesive backing, while paper tape might provide a smoother finish if applied correctly with joint compound or drywall mud. 
Both have advantages and disadvantages, so make sure you fully consider all options before deciding which type of drywall taping is better suited for the job.
What Happens If You Don't Tape Drywall?
If you don't use tape when installing drywall, then the seams between each sheet of drywall can become visible. This is because the compound used to fill in the gaps and create a smooth finish will squeeze through the seams and create ridges along the surfaces. 
Due to this, the walls will look unsightly, and there will be an obvious line running along them where each sheet of drywall has been joined together. These ridges may cause bumps to form over time as they get trapped beneath paint or wallpaper, which can lead to further aesthetic issues.
Can You Paint Over Drywall Tape?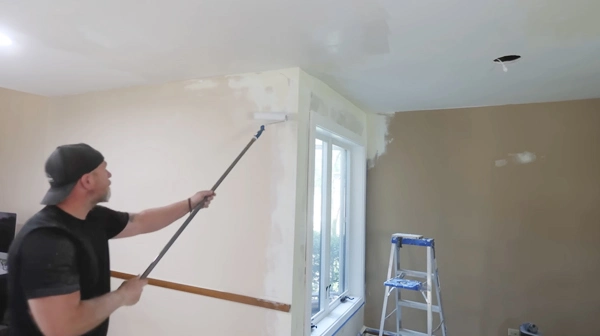 As a general rule, after applying drywall tape, a joint compound should be applied over it. Once the joint compound is dry, you can definitely paint over it. If you wish to paint drywall tape without applying joint compound, only paper-based drywall tape will be suitable.
The smooth surface of the paper drywall tape makes it easier to paint over. If you paint over the fiberglass-based drywall tape without a joint compound, it might not seem smooth and look lumpy.
Remember that painting directly over the drywall tape is not recommended, as it is unlikely to adhere properly and will cause the paint to peel off.
How Can Big Of a Gap Drywall Tape Cover?
The width of the tape determines the size of the gap that drywall tape can cover. Most drywall tapes can cover gaps a minimum of 1/2 inch in width. Alternatively, some tapes can cover gaps up to 1.5 inches wide.
Be sure to check the size of the gaps you need covering and select the appropriate tape width accordingly. In this way, the tape can cover the gaps completely and securely.
Does Drywall Paper Tape Go Bad?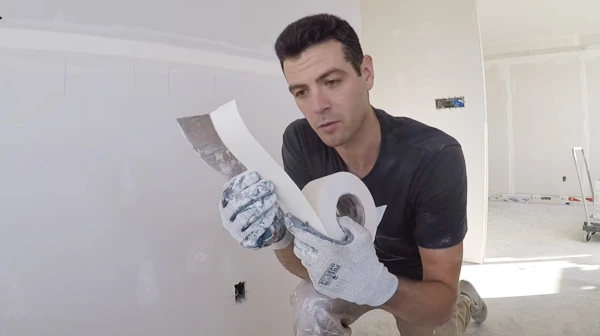 Paper drywall tape can indeed get worse over time. When exposed to moisture and humidity, this tape will eventually degrade. If you store the tape in a damp environment, it can quickly become unusable.
To prevent this from happening, always keep the paper tape stored in a cool and dry place. The shelf life of this product depends on the quality of the tape.
When you buy drywall tape, be sure to check the expiry date printed on it. This will ensure that you buy a quality product that has been manufactured recently and is not expired.
You should also keep the unused tape in a safe place after use. Doing this will ensure that it stays effective and lasts longer.
Enjoy Strong, Smooth Joints With Quality Drywall Joint Tape
Hopefully, you can now select the appropriate drywall tape for your project. Make sure to always check the product description and reviews before purchasing any type of drywall tape. This will ensure that you get a superior quality product with features that are suitable for your needs.
Among the drywall tapes we reviewed, all are of the highest quality. You can compare their features and choose the one that is most suitable for your needs. But overall, Duck Brand's drywall joint tape is the best option for you.
EDSRDRUS drywall repair tape is a good option if you are looking for quality drywall tape at an affordable price. We hope you will ultimately find the best drywall tape to suit your needs.